In the United States when I think of ladies underwear I think of Victoria's Secret.  If you were to ask me to name another store I wouldn't know how to answer.  Victoria's Secret is a staple in any American mall, men lust over their sexy models, and it seems like every woman loves shopping there.  That's the situation here in the US, but this got me thinking…where do ladies shop for bras and other intimate clothing in other countries?   What is the equivalent "Victoria's Secret" in foreign countries and how do they advertise their product?  Armed only with the power of the Internet in this series of posts I set out to find out these answers and embark on the World Bra Tour – an exploration of Bra culture around the world.  Today I start off the tour with Germany.
How Do You Say "Bra" in German?
I was real excited to get started on my Bra quest, however, the first roadblock I came across in my research is that if you search "German Bra Commercials" in Google you don't get many good results.  The same is true if you search Youtube.  I decided to change my approach and search in German.   But how do you say "bra" in German?
I headed to Google Translate and entered "bra" and was given the German translation "BH."  Then I learned to say "BH Werbung" (Bra advertisement).  I don't speak any German, but I was curious to see what "bh" actually sound like and thanks to online text-to-speech I was able to find out.
Here I learned what "BH Werbung" sounded like.
Audio clip: Adobe Flash Player (version 9 or above) is required to play this audio clip. Download the latest version here. You also need to have JavaScript enabled in your browser.
Unfortunately  "BH Werbung" is not very useful in everyday speech, so here's a phrase that might be more useful "Ich kann Ihre BH!" (I can see your bra!)
Audio clip: Adobe Flash Player (version 9 or above) is required to play this audio clip. Download the latest version here. You also need to have JavaScript enabled in your browser.
Thanks to my new found knowledge I was able to find much more interesting bra commercials.
Bonprix
To be honest this commercial isn't that exciting. The clip is from their youtube channel, Bonprix FashionTV, where they are advertising and all of their clothing products which also include men, women, and children's fashion.  Turns out Bonprix is one of the largest e-commerce websites in Germany (top 10 according to their translated wiki page).  They sell their goods through mail order catalogs, online, and a TV shopping show they have.  Their website has this pretty cool feature where you can browse and even download their full catalogs.   For those interested in Bonprix's  bra and underwear fashions check out their catalog.
The catalog is pretty interesting.  It has page turning animations so as you are browsing you feel like you are viewing a real catalog.   If you happen to find a bra that interests you, you can click on it and you'll be taken to the product information page.  More impressively, if you click on the magnifying glass on that page you can zoom-in ultra close on the product and model.  I'm assuming the reason you would want to do this is the examine the quality of the material.
Lascana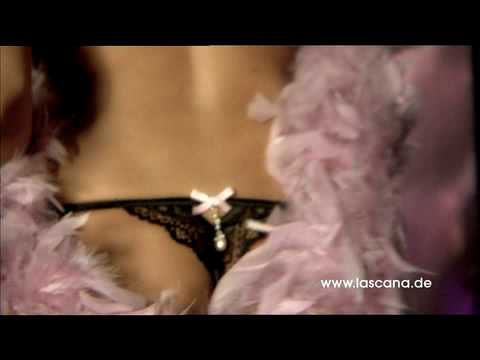 As Lascana's slogan "It's a woman's world" suggests, Lascana is focused solely on women's fashion.  They have stores throughout Germany and seem to be similar to Victoria's Secret, but perhaps more upscale.  In addition to lingerie they also sell swimsuits and "homewear" (which looks like sleepwear to me).  Mahret Kupka, a German fashion blogger, did a great write up (originally in German, but translated courtesy of Google) where she toured a Lascana store and snapped some good photos.  Below is a video tour She did at one of Lascana's stores.  It seems she was very fascinated by the dressing rooms.
Lascana also has an online catalog so if you are curious you can scope out all the latest Lascana fashions.
Just like Bonprix, Lascana also has their own product super zoom-in feature.  It's a little different, but basically the same idea.  Find a product you like and then zoom up way close to check out the quality of the fabric.
C&A
Of all the German bra commercials I've come across so far , C&A's seems to be the sexiest.  In addition to showcasing not only their bras but also their "strings" (which I assume are panties…) they have some interesting camera angles and shots.  Here's another example of their more racy commercials.
The prices don't seem so bad considering it's only 6 euros ($8) for the string (panties), 15 ($20) for the "corsage," and 12 ($16) for the "BH" (which we all learned earlier is bra in German).
However, it should be noted that these videos are from 2003 so if you take into account inflation it's probably like million euros now.  As you might be able to guess with these kind of prices C&A isn't going after the high end market (Walmart sells a bra for $19).  Similar to Bonprix, C&A sells all kinds of fashion for men, women, and children.  They have stores all over Europe, but in 2001 closed down all the stores in the UK due to poor sales.  Recently they've been trying to reinvent their low budget image by improving the quality and increasing the prices.
You can check out C&A's bra and underwear fashions by checking out their online catalog.
It's not as fancy as the other two online catalogs, but they lots of photos and they have their own product super zoom-in feature.  I know Walmart for sure doesn't have this feature.
Overall Lessons Learned
The German online bra and underwear browsing and shopping experience is very different from the United States.  They take tons of high quality photos of the products and models.  They also have very innovative interactive product catalogs.  I'm still amazed at how you can zoom so close up to the models.  You can see the pores in the skin!  Victoria's Secret seems so boring now.
Tweet This Post